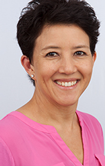 The Importance of Early Recognition in Diagnosing Autism
By Carmela Sosa, MD
Pediatrician, Charlie Mitchell Children's Center
Valley Children's Medical Group
Original Publish Date: May 9, 2017
Call it intuition or sixth sense, most parents know when something does not seem right with their child.
Perhaps their 2-year-old son keeps good eye contact, but does not speak and repeatedly flaps his hands. Or their 1-year-old daughter turns to her name, but does not react to sounds like a car horn. Common advice parents may hear is "Don't worry, he'll grow out of it" or "Wait and see how she does in a year."
As a parent and pediatrician who treats complex cases, I know listening to that gut feeling is critical – especially when autism spectrum disorder, or ASD, is suspected in children. Research indicates early recognition and referral for interventional services for ASD is necessary to help each child achieve their full potential.
What is Autism Spectrum Disorder
ASD is a group of developmental disabilities shown to affect social, communication and behavioral functioning. The nature and degree of disability varies individually.
Children with ASD may reach milestones such as sitting, crawling and walking, but developmental differences can be noticed in spoken language and social behaviors. Some early "red flags" include:
Not making or keeping eye contact
Not responding to a parent's smile or facial expressions
Not saying single words by 16 months old
Not being soothed by human contact
Engaging in odd, repetitive mannerisms
Difficulty with change
Demonstrating sensitivity to sound, light, texture and smells
ASD affects about one in every 68 children, making it the fastest-growing developmental disability nationwide. In the 1970s, autism affected about one in every 10,000 children. Whether the dramatic surge reflects a true increased incidence of ASD symptoms, or just greater awareness and better diagnosis, is not known.
What we do know is early attention to improving the core behavioral symptoms of ASD before age 3 is the child's best opportunity to learn to cope with, and sometimes reduce the severity of, the disorder. If parents take the wait-and-see approach, precious time may be lost in receiving professional help.
Recent data shows nearly half of kids identified with ASD scored average or above average intellectual ability – meaning an IQ above 85 – compared to one-third of children affected a decade ago, underscoring the importance of early intervention for children with ASD to thrive.
Children can demonstrate signs of ASD as young as 6 months. The American Academy of Pediatrics recommends ongoing surveillance of ASD, with formal screenings at 18- and 24-month well-child checkups. If parents suspect a developmental delay at any point, they should ask their pediatrician or family doctor for an evaluation. Diagnosis of ASD can be complex and may take a long time to complete, but parents should not wait to seek help or intervention.
Improved treatment
There is no known single cause of ASD. Medical professionals generally agree the condition is due to abnormalities in brain structure or function. Scientific data shows no link between childhood vaccinations and ASD.
Until the 1960s, researchers associated autism with schizophrenia, and many people with autism were institutionalized. Treatments have since evolved from electric shock and behavioral change techniques based on pain and punishment, to highly controlled learning environments. Today, behavioral and language therapies feature positive reinforcement strategies to help children with ASD acquire skills that may help them talk, interact, play, participate in school and care for their needs.
Each year, Valley Children's Healthcare treats hundreds of children with ASD. Since children with this condition are especially sensitive to their surroundings, we created a program called "George's Pass" to minimize the effects of a typical clinical environment. Named after our popular giraffe mascot, George's Pass strives to improve care and provide a better, more individualized experience through education, personal tours, hands-on activities and more.
In honor of Autism Awareness Month, more than 1,300 people participated in Valley Children's second annual "Run with the Heroes" 5K Run and Family Walk on April 22 at Valley Children's Hospital in Madera. All proceeds from the event benefit George's Pass, the only program of its kind in Central California that expanded hospital-wide last fall.
Fortunately, with the appropriate education and treatment, many children with ASD can learn and function productively. The sooner ASD is identified, the sooner intervention programs can begin. One of the most important things parents can do is to learn the early signs of ASD, and if their child is not reaching the expected developmental milestones, to seek help.
For more information on autism spectrum disorder, visit the Academy of Pediatrics at aap.org or Centers for Disease Control and Prevention at cdc.gov.
One of the largest pediatric healthcare networks in the nation, Valley Children's Healthcare provides Central California's only high-quality, comprehensive care exclusively for children, from before birth to age 21. Our independent, nonprofit network offers highly specialized medical and surgical services to treat conditions ranging from common to the most unusual and complex at our medical facilities that include our 358-bed main children's hospital and three neonatal satellite locations, as well as through partner hospitals, specialty care centers and pediatric primary care offices. With more than 550 physicians and 3,000 staff, Valley Children's partners with other providers and organizations throughout our 11-county, 45,000-square-mile service area to support delivering the best care to kids closer to home.