Chemical Dependency Professional, Port Angeles, WA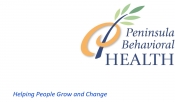 View the Website
Peninsula Behavioral Health
Behavioral Health Professional
Port Angeles, WA
October 11, 2017
POSITION AVAILABLE
Chemical Dependency Professional
(Starting Salary: $16.80 - $18.48/hour DOE)
POSITION TITLE: Case Manager – Chemical Dependency Professional
FLSA STATUS: Non-Exempt
REPORTS TO: Co-Occurring Disorders Coordinator
JOB PURPOSE: Provides a range of assessment and case management services in the community to assist in both recovery and entry into behavioral health services including mental health and substance use disorders treatment in conjunction with Medication Assisted Treatment (MAT) providers. Assures that services are congruent with age, strengths, supports and cultural framework of the individual being served.
ESSENTIAL DUTIES AND RESPONSIBILITIES:
Provides Chemical Dependency Evaluations for individuals identified or suspected of having substance use disorders.
Provides case management services to individuals in Clallam County to promote recovery and ensure linkage with needed services, including behavioral health services and Medication Assisted Treatment (MAT) providers.
Provides screening of client's cognitive, emotional, physical, social and vocational strengths and needs.
Advocates for clients with community agencies. This may include scheduling appointments, following up on missed appointments, medications diversion control and making referrals. Maintains strong community partner relations.
Teaches skills such as problem solving, goal setting, money management, symptom management, communication, social skills, relapse prevention and how to access community resources.
Communicates with medical and other community providers to coordinate care.
Provides supportive counseling and psychoeducational services including Motivational Interviewing oriented counseling to encourage a recovery oriented lifestyle.
Provides assistance with obtaining funding and basic needs such as food, shelter, clothing and transportation as needed.
Assisting in the development of natural support systems.
Maintains a client registry and other documentation as required. Submits required reports and completes all documentation per contract requirements.
Maintains familiarity with the handles client information in accordance with Federal Regulations (42 CFR, Part 2), the Revised Code of Washington (RCW 71.05.390 and RCW 71.24), and other applicable laws pertaining to confidentiality of client and staff information.
Maintains physical security of confidential materials and assigned Agency property.
Documents service plans.
SECONDARY DUTIES AND RESPONSIBILITIES:
Performs relevant clinical and administrative tasks according to agency policies.
Demonstrates proficiency in utilization of the PBH electronic medical record system and the federal HMIS data system.
articipates in team meetings and program development.
Attends and participates in Performance Improvement Meetings on a regular scheduled basis.
Provides information and education to community members.
Maintains high standards of professional conduct in interaction with clients, staff and other community members.
Demonstrates cultural competency skills.
Maintains professional competency through a program of professional development and in-service training.
Demonstrates flexibility in adapting to changing work demands.
Performs other duties as assigned or requested.
PERFORMANCE EXPECTATIONS:
Maintains accurate and timely chart information in compliance with BHO, State, funding source, and agency quality assurance guidelines.
Meet agency productivity expectations of 50% on a consistent basis.
Meet agency expectations for documentation of services.
Meets all contract obligations
Coordinate and prioritize work assignments so that tasks are completed on time and in a quality manner.
REQUIRED EDUCATION, LICENSE(S), CERTIFICATION, AND EXPERIENCE:
Education: Associates Degree in Human Services, Addiction Studies or other related field.
Licensure: Chemical Dependency Professional
Experience: Two years of experience in providing chemical dependency services or clinical treatment services.
Other: Must possess and maintain a valid driver's license and an acceptable motor vehicle report and reliable, insured transportation.
PREFERRED ADDITIONAL CREDENTIALS/EXPERIENCE:
Education: Bachelor's in psychology, social work, human services or other related field.
Experience: Experience working with individuals with serious and persistent mental illness and substance use disorders.
KNOWLEDGE, SKILLS, AND ABILITIES:
Essential:
Familiarity with treatment and behaviors associated with chemical detoxification.
Knowledge of Motivational Interviewing techniques.
Ability to multitask and effectively manage a caseload of individuals with diverse needs.
Knowledge of classification of mental disorders contained in the current DSM.
Ability to utilize Mini-Mental Status Examination and other measures to assess cognition and symptoms.
Provide biopsychosocial assessment to determine level of care for CD or COD services.
Understanding of the impact of health related problems on psychiatric illness and knowledge of medical issues that may mimic psychiatric symptoms in older adults.
Ability to educate clients about signs, symptoms, and recovery from substance use disorder and mental health.
Understanding of current knowledge on recovery.
Knowledge of social service delivery systems.
Ability to coordinate care with multiple service providers.
NATURE AND SCOPE:
Physical Demands:
Moderate physical effort (lift/carry up to 25 lbs.)
Occasional standing/walking
Occasionally lifts supplies and equipment
Must be able to operate a motor vehicle
Must be able to tolerate sitting in a vehicle, office or community setting for the required number of hours in a work day
Cognitive Skills:
Advanced verbal and written communication skills
Strong organizational skills
Excellent interpersonal skills
Must be able to enter data into a computerized electronic medical record
Working Environment:
May be exposed to infections and contagious diseases
Occasionally exposed to patients exhibiting assaultive behaviors
Ability to work in a jail setting and comply with jail regulations
Occasionally exposed to patients exhibiting aggressive behaviors
Working Demands:
Frequent pressure due to schedule demands
Contact with patients under a wide variety of circumstances
Subject to varying and unpredictable situations
Handles emergency or crisis situations
Principal Challenges:
Working Collaboratively with interdisciplinary staff
Working collaboratively with clients, jail staff and other community members
Ensuring compliance with agency and funding standard for documentation and delivery of services
Works with a wide variety of clients with serious, persistent mental illness and/or substance use disorder.
Closing Date
To apply, forward resume and cover letter to:
Amanda Hill, Human Resources Specialist
Peninsula Behavioral Health
118 E. 8th Street
Port Angeles, WA 98362
Or,
employment@peninsulabehavioral.org
or apply at www.peninsulabehavioral.org
(Equal Opportunity Employer)
NOTICE
The above job announcement is meant to describe the general nature and level of work being performed. It is not intended to be construed as an exhaustive list of all responsibilities, duties, and skills required for the position. Employees will be required to follow any other job-related instructions and to perform other job-related duties requested by their supervisor in compliance with Federal and State Laws. Requirements are representative of minimum levels of knowledge, skills, and/or abilities. To perform this job successfully, the employee must possess the abilities or aptitudes to perform each duty proficiently. Job requirements may be subject to possible modification to reasonably accommodate individuals with disabilities.
See above
See above
See above