Family Practice or Internal Medicine Physician, Chico or Oroville, CA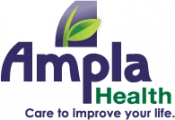 View the Website
Ampla Health
Physician
Chico or Oroville, CA
October 11, 2017
PHYSICIAN – FAMILY PRACTICE OR INTERNAL MEDICINE POSITION
AMPLA HEALTH
Join our Community Health Center team for an exciting and rewarding career opportunity Ampla Health is a Federally Qualified Health Center with 17 clinic locations, providing Quality Comprehensive Health, Dental and Integrated Behavioral Health services to the underserved communities in a six county region of Northern California
The Ampla Health Care team is comprised of 44 physicians, 40 midlevel professionals, nutritionists, health educators and case managers, providing multiple specialties including; Endocrinology, Orthopedics, Dermatology, Infectious Disease, Rheumatology, Nephrology, and additional services supported by our Tele-Health program, recognized #1 in California 2016.
Ampla Health's primary health care system is dedicated to providing care for special populations and promoting excellence in the health and well-being of our patients.
Ampla Health is an established FQHC providing health care services to the community for 40 years. Located in beautiful Northern California and nestled at the base of the Sierra Mts. This region offers Quality of Life, Kayaking, Fishing, Hiking, Camping, Wildlife, Local Lake, Rivers, Outdoor activities, and a short driving distance (2.5 hr.) to the Celebrated Wine Country or Tahoe region.
Ampla Health offers our providers a great compensation and benefits package for Full-Time employees and pro-rated benefits for part-time or per-diem flex employees.
Medical, Dental, Vision and Life Insurance
Annual Leave – 4weeks (160) PTO with optional buy back
Holiday pay (9 recognized days)
Board Certification ($5,000 per year)
Hospital care incentives
Mal-practice Insurance
CME ($5,000 per year)
License or Medical association dues ($700 per year)
Long term sick leave
Tax Shelter Annuity Plan
Retirement Plan
Relocation Assistance
J-1/H1-b sponsorships
Loan repayment State/Federal programs
Competitive Salary and Incentive Plans
Ampla Health is currently recruiting for Family Practice or Internal Medicine Send Resume/apply at:
Ampla Health
Human Resources Dept.
935 Market Street
Yuba City, CA 95991
Or contact:
Teresa Thornton, Corporate Recruiter
(530)751-3749
www.amplahealth.org
See above
See above
See above