Controller, Bend, OR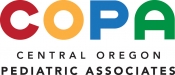 View the Website
Central Oregon Pediatric Associates
Accounting/Finance
Bend, OR
March 20, 2018
CONTROLLER – COPA – Bend, Oregon
Central Oregon Pediatric Associates (COPA) of Bend, Oregon, Central Oregon's largest independent pediatric practice, is hiring a full-time Controller. COPA is a Patient-Centered Primary Care Home looking for a candidate that contributes to the team with a passion for their role and a passion for population health throughout the region.
CONTROLLER JOB RESPONSIBILITIES
The Controller supports COPA's mission and dedication to serving the children and families of Central Oregon with excellent, comprehensive and compassionate medical care. COPA providers and support teams are a close-knit group that collaborates to ensure all children are well served. This role is accountable for COPA's financial operations, oversees COPA's Business Operations team and reports directly to the CEO.
Assures compliance with federal, state and local laws and regulations, accrediting agency standards and practice policies, procedures, rules and regulations.
Prepares and oversees all regular financial reports and analysis, advises on and ensures appropriate oversight of grant accounting and reporting.
Maintains and utilizes specialized knowledge of accounting principles and practices.
Prepares annual budgets according to established calendar, ensures alignment of expenditures with budgets throughout the year.
Acts as liaison with external stakeholders in providing required financial reports and information; negotiates payer contracts and determines annual changes to fee schedules and templates.
Leads and develops COPA's Business Operations leadership team.
QUALIFICATIONS
Five years progressive career experience in Healthcare Finance / Accounting (Revenue Cycle).
Bachelor's degree in accounting/finance or business administration required. Preference given to advanced degree, MBA and/or CPA.
In-depth knowledge of the current trends and developments in healthcare reform and other federal programs.
Knowledge of accounting in accordance with US Generally Accepted Accounting Principles.
Preferred experience includes knowledge of Medicaid, Payer Contracts, HIPAA, STARK, EMTALA and associated government rules and regulations in relation to healthcare services.
The right candidate has a history of positive interactions in team environments and friendly demeanor to patients and families of all backgrounds.
ABOUT COPA
Central Oregon Pediatric Associates (COPA) has provided excellent, comprehensive and compassionate medical care to children in Central Oregon for over 40 years. Our mission is to serve all children with top quality medical care and outstanding service in a friendly and welcoming environment, regardless of their background or family status. COPA is a thriving, independent partnership whose healthcare quality measures exceed all medical care facilities in the region. COPA's Pediatric Center of Excellence provides embedded behavioral health specialists, care coordination teams, 24/7 Telephone Nurse Advice, newborn patient advocate, and newborn lactation consulting support. COPA hosts over a dozen visiting pediatric specialists from children's hospitals in Portland, Oregon who see patients in Bend at the COPA clinic. We are recognized for working closely with regional specialists to ensure patients have access to the best medical care available in a coordinated approach. We welcome you to visit our website at www.COPAkids.com
BEND, OREGON LIFESTYLE
Bend is an outdoor lifestyle and recreation hub located in Central Oregon. Bend is known for its culture of work/life balance, access to extraordinary outdoor recreation, and diversity of activities with proximity to the Cascade mountains, Mt Bachelor Ski Resort and Smith Rock State Park. The region is home to hundreds of miles of hiking and cycling trails, world class rock climbing, river and lake sports, hunting and fishing and all around outdoor activities. The city is famous for dog parks and brew pubs, restaurants and food carts, outdoor festivals and live musical entertainment.
TO APPLY FOR THIS POSITION, please email CV to COPA: recruiting@COPAkids.com
See above
See above
See above