Certified Medical Assistant, Bend, OR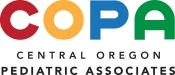 View the Website
Central Oregon Pediatric Associates
Medical Assistant
Bend, OR
August 15, 2018
Certified Medical Assistant - CMA - Central Oregon Pediatric Associates (COPA) - Bend, OR
Central Oregon Pediatric Associates (COPA) of Bend, Oregon, Central Oregon's largest independent pediatric practice, has immediate openings for Full Time Certified Medical Assistants. COPA is a Patient-Centered Primary Care Home looking for a candidate that contributes to the team with a passion for both the individual health of patients and a passion for population health throughout the region. The right candidate will thrive in a private practice where staff and providers have tremendous opportunity to positively impact the life of a child, with flexibility in a supportive environment of comprehensive resources. Likewise, COPA expects staff and providers to have a deep commitment to the practice, their team members and ultimately their patient. Candidates will demonstrate a work ethic that exhibits a commitment to patient compliance and outcomes.
The right candidate has a history of positive interactions in team environments and friendly demeanor to patient and families of all backgrounds. COPA support teams and providers are a close-knit group that collaborates to ensure all children are well served. We foster a collaborative environment focused on exceeding our patient and families expectations and offer our team members a competitive total pay package.
The primary focus of the CMA role includes eagerly, energetically, professionally and joyfully welcoming our kids and families to their appointments, assisting our physicians/providers in the delivery of patient care while working within the scope of practice for a Certified Medical Assistant.
Essential expectations are that the CMA works closely with, and under the direct supervision of, the physician they are working with. The CMA is responsible for daily patient flow, anticipating the physician's needs as they relate to the patient's care and safely and accurately administering the appropriate treatments as they are ordered by the physician.
If this opportunity resonates with you and you can demonstrate a history of high quality, service-oriented performance, we welcome your application! Please submit a cover letter explaining your desire to work in Pediatrics, your current resume and apply online at www.copakids.com
QUALIFICATIONS:
Education: Graduate of an accredited Medical Assistant program is required.
Certification: Current certification from a recognized organization such as AAMA.
Experience: Experience working in Pediatrics/Family Practice preferred, and experience working with EHR systems. New CMA Program graduates encouraged to apply.
Working Conditions: Standard medical office environment.
See above
See above
See above