Director - Revenue Cycle, Ellensburg, WA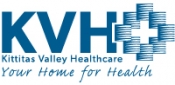 View the Website
Kittitas Valley Healthcare
Director
Ellensburg, WA
September 11, 2018
Director - Revenue Cycle
309 E Mountain View Ave, Ellensburg, WA 98926, USA * Full-time
Company Description
Who is KVH...
KVH is an integrated healthcare delivery system that includes 24-hour emergency care, inpatient, and outpatient hospital services through KVH Hospital. Clinics include family medicine, internal medicine, orthopedics, general surgery, women's health, workplace health and urgent care. Specialty services provide home health and hospice, physical, speech and occupational therapies, and a geriatric nurse practitioner program.
What you can expect...
Work-life balance is important to us. We value your mental well-being as much as your skills to perform the job and therefore offer a competitive PTO plan, benefits package as well as a 7% employer contribution pension plan. When you're away from the office, we want you to be able to enjoy this beautiful setting. Commute to work by mountain bike. Hike in the wilderness on your day off. Backcountry ski from your door, or from lifts within an hour's drive.
Job Description
The Director of Revenue Cycle is responsible for the operations of Revenue Cycle including PFS, Clinic Billing and Revenue Cycle Departments. This position is responsible for managing patient account billing and claims management, the ongoing monitoring of CPT/HCPCS coding changes, Medicare, Medicaid, and commercial payers' reimbursement rules. Additional functions inherent to this position are to support, educate, recommend changes to all charging departments; research, evaluate and recommend changes to interdepartmental revenue cycle processes; assist in defining policies and procedures; and develop statistical reports to track revenue capture for services provided.
Qualifications
What is required...
Bachelor's degree in Business Administration, Accounting, or other related field
At least ten years of proven, progressive experience in healthcare revenue management
Additional Information
Wage: Will be determined based on years' of applicable experience
FTE: 1.0 = 40 hours/week; Exempt
See above
See above
See above